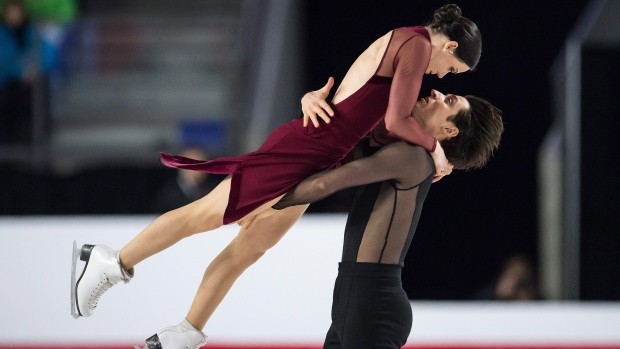 Another figure skating power – Canada held its national championship. The champions are largely known – the 10th title for Patrick Chan, 8th for Tessa Virtue and Scott Moir, 7th for Meagan Duhamel and Eric Radford and second for Gabrielle Daleman.
The highlights of the tournament were two. One is the superb performance of Tessa Virtue and Scott Moir in both dances. They finished with the phenomenal 209.82 points, so far they had not passed 200. Of course, it is not impossible for local judges to try to raise their confidence before the upcoming Olympics, but that was undoubtedly the best of Tessa and Scott. Their free program on Mouline Rouge has been changed and the dancers received the maximum marks of 10 for each of their component scores. They took the maximum possible second score that I have not seen before.
The second place is for Piper Gilles and Paul Poirier (192.08) who apparently decided this season not to miss their chance for the Olympics, as they did four years ago. The third are Kaitlyn Weaver and Andrew Poje (191.09) because of the fall of the twizzles in the short dance.
The second accent is not with the winners. Elladj Balde put the crowd on her legs with his performance 30 seconds before the end of the short program. The moment when Keegan Messing embraced Balde and his coach Bruno Marcotte was memorable. Ellage finished fourth.
His tenth consecutive title won Patrick Chan with 272.24 points. In his free program, he completed two quad toeloops but two triple axels. Following him are Messing (259.25) and Nam Nguyen (258.16).
In the ladies perhaps a little unpredictable Daleman won with 229.78 points and did a magnificent short program. Second is Kaetlyn Osmond with 218.73. With them, however, Canada has a very strong team for the Olympics. Larkin Osman is third.
For the seventh consecutive season Meаgan Duhamel and Eric Radford did not have competition and won with over 20 points in pairs – 234.55. The triple lutz and the triple lutz trow worked in both programs, but Meagan could not land the quad salchow trow. Julianne Seguin and Charlie Bilodeau are second with 213 points. Third place for Kirsten Moore-Towers / Michael Marinaro and fourth for Lubov Ilyushchekina / Dylan Moskovitch.