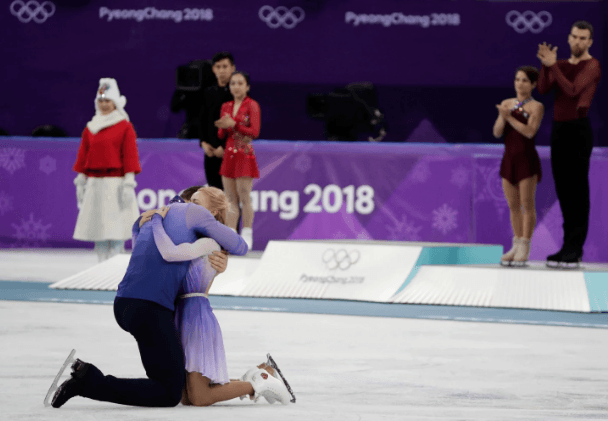 The great Aliona Savchenko succeeded and ather fifth Olympic Games she won the gold. Savchenko and Bruno Massot triumphed for Germany in the pair competition in Pyeongchang. For the Ukrainian-born athlete this is the first gold medal after bronze from boht Vancouver and Sochi Olympics with Robin Szolkowy. She debuted in 2002 with Stanislav Morozov for Ukraine. After the Games in the Russian city, Aliona decided to continue her career and participated in Pyongchang where at 34 year to pursue the missing title. For Bruno this was the debut of the Olympics after she had no success with her former partner Daria Popova while competing for France.
"We celebrated New Year together and I told Bruno that 2018 is our year," said Savchenko after the competition.
The duet started from fourth place after the short program, but at the end gathered 235.90 points. Due to injury they did not do triple axel throw but were perfect in every single item. With 159.31 points they set new world record.
The leaders from the short Wendjing Sui and Cong Han from China are second with 235.47 points. It was a very special day also for the team champions Meagan Duhamel and Eric Radford, who held the third with 230.15 points. For them, this is the first individual medal, as Meagan is 32 years old and Eric is 33. Despite their age, they did the most difficult free program with quad salchow throw, triple lutz throw and triple lutz.
Fourth place for the young Evgenia Tarasova and Vladimir Morozov (Russia), who started with a strong quad twist but failed in two of the jumps. Strong day for Vanessa James and Morgan Cipres (France), who returned their old free program and climbed to fifth place. Sixth, also a great result for them, are Valentina Marchei and Ondrej Hotarek (Italy).
Russia, China, Canada and Italy have two teams in top 10 – Nathalya Zabiiako/Alexander Enbert, Xiaoyu Yu / Hao Zhang, Julianne Seguin / Charlie Bilodeau and Nicole Della Monica / Matteo Guarise.