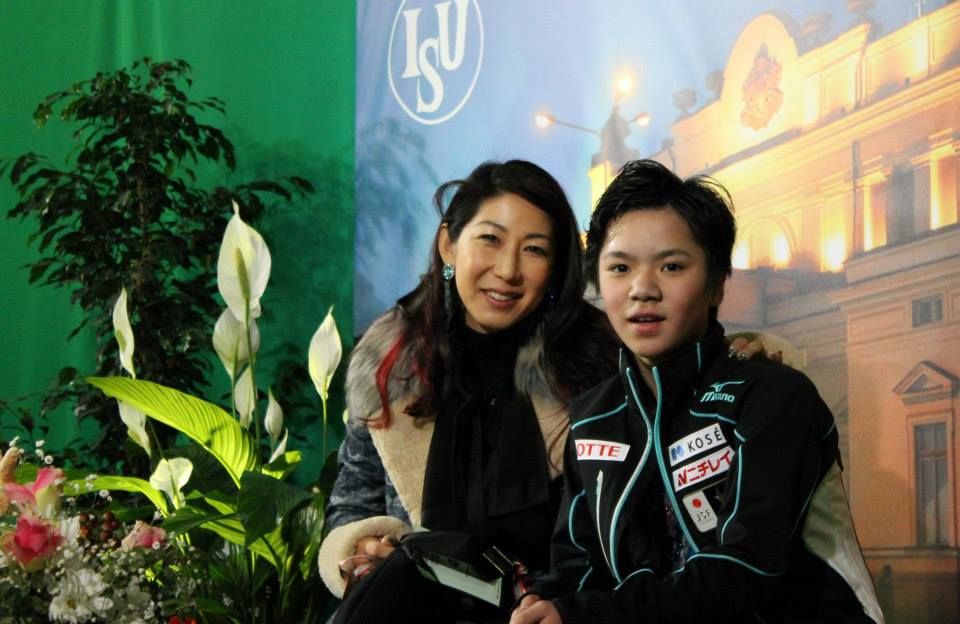 An interesting fact is that Sofia hosts two consecutive World Junior Figure Skating Championships just after the Olympic Games. It is even more interesting to follow the way of those juniors who were watched at the Winter Sports Palace just 4 years ago, and today they are waiting for their debut at the Pyongchang Olympics.
Undoubtedly, the biggest stars met today in Sofia is the two-time world champion Evgenia Medvedeva, and the three jumping machines – Nathan Chen, Shoma Uno (pictured with his always smiling coach) and Boyang Jin.
The two-time European champions Evgenia Tarasova and Vladimir Morozov will lead the Russian team and Zhenya is one of his captains, competes in Sofia. Then winners in pairs event were Xiaoyu Yu and Yang Jin are in Pyongchang, but with new partners, respectively, Hao Zhang and Chen Peng. Another interesting fact is that at the World Championship in Sofia, Anna Duskova from the Czech Republic competed in singles and pairs, but later devoted herself to the successful partnership with Martin Bidar.
Romain le Gac and Ronald Zilberberg were in Sofia, and now have new partners – Marie-Jade Lauorilot and Adel Tankova.
Here are the participants from Sofia 2014 with their ranking then
Men: Nathan Chen (USA 3), Shoma Uno (Japan, 5), Boyang Jin (China 6), Keiji Tanaka (Japan 7), Dennis Vasiljevs (Latvia 8), Brendan Kerry (Australia, 21), Matteo Rizzo (Italy, 30), Julian Zhi Jie Yee (Malaysia)
Ladies: Evgenia Medvedeva (Russia, 3), Satokho Miyahara (Japan, 4), Karen Chen (USA 9), Elizabet Tursynbaeva (Kazakhstan, 11), Anna Khnychenkova, (Ukraine, 32) Anna Duskova (Czech Republic, 33), Kailani Craine (Australia, 35)
Pairs: Xiaoyu Yu and Yang Jin (China, 1), Evgenia Tarasova and Vladimir Morozov (Russia, 2), Anna Dushkova and Martin Bidar (Czech Republic, 10)
Ice Dance: Alexandra Nazarova and Maxim Nikitin (Ukraine, 5), Curtney Mansour and Michal Ceska (Czech Republic, 13), Estel Elizabeth and Romain le Gac (France, 11) and Kimberly Berkovic and Ronald Zilberberg (Israel, 21)
Photo: Andriana Andreeva