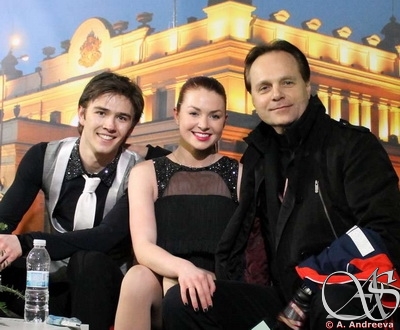 Evgeni Platov needs no introduction. This great Russian ice dancer, who is the only two time Olympic champion with Oksana Grishuk, is enjoying a very successful season as a coach. His team of Penny Coomes and Nicholas Buckland won the bronze medal at the European championships in January and placed in the top 10 at the Olympics. In March, Platov was in Sofia with Olivia Smart and Joseph Buckland for Junior Worlds and he shared with us some impressions from the season.
It's not the first time you've been here. You won the European Championships in 1996. What do you remember?
In 1991 the European championships were here, then again in 1996. I remember them very well. So, this is my third time here. Everything here was organized at a high level, but I just hoped that more people would have come. I remember there were lots of people here last time. In 1996 we won. We had 3 couples with the same coach, Natalia Linichuk, on the podium; it was so much fun since we were all team mates. Anjelica Krylova and Oleg Ovsyannikov won second place, and in third were Irina Romanova and Igor Yaroshenko. It was a great time. I remember one thing – we were talking after the competition about how hard it was to skate here. The altitude is only 550 meters but I don't know, maybe it's the altitude, maybe it's the air, maybe something else, but it was the hardest skate I'd ever done. And Krylova and Yaroshenko agreed. We won the podium but it was the most difficult win for us, we don't know why. It was great competition with so many people supporting us, but it was not easy.
Tell me more about Olivia and Joseph?
Everything is developing well for them, they have great potential. Unfortunately, Olivia has many injuries and so does Joe. Even at this competition they are only 90% ready, not 100%. Because in the summer and during the whole season she had tendonitis problems, she was taking a lot of time off in order to recover, and that cost a lot. I wanted them to be in the top 10. It's the last Junior Worlds for them. The good thing about them is that they have chemistry, they look good on the ice, many judges and officials say to me that they look great. But they need to be healthy. Next year they will be at the senior level, and they'll put forth great work. That's not easy to do.
They will have to compete with Penny and Nicolas.
Yeah, that would be great to see. At this time we have 2 brothers that used to skate on the same ice at the same time but their programs were different – there were junior programs and senior programs. Next season, as seniors, the programs will be mostly the same, including the length. They will have to push each other.
How are the teams different?
Olivia and Joseph are much younger and need more experience. Penny and Nicholas are 24 years old, they are becoming successful professionals. By this I mean that they know what to do, what to eat, when not to eat, when to sleep, how to eat, and how to sleep. They are becoming experienced. The "kids" had to learn from them what to do, how to not make poor decisions and get sick all the time – it happens. Experience can make a huge difference. The younger skaters need to learn to be strict, more disciplined, and make a lot of sacrifices to become more successful.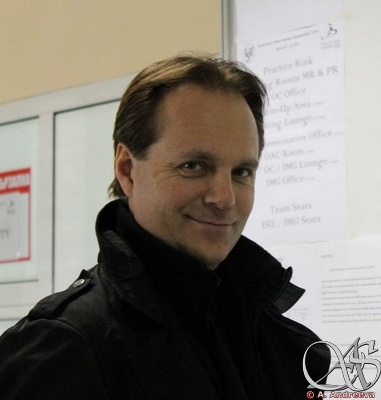 At the European Championships, Penny and Nicholas totally won the public over with their free skate and then did pretty well in Sochi. How did they come up with the idea for Michael Jackson?
Absolutely. The idea came from the kids. Penny and Nicholas always wanted to skate to Michael Jackson. We wanted to do it as an exhibition number so we consulted with our choreographer, Penny's step father, Phillip Askew. He created a program for them which I changed a little bit. They performed this number in several cities around the world and people loved it. So then we were thinking we should make it a free program for them, but I felt they needed to not simply do Michael Jackson, but do "smart" Michael Jackson; we needed a choreographer who knew genuine Michael Jackson dance technique. And luckily we found a guy in London who danced with Michal Jackson before he passed away. This dancer was in his crew. We found him and worked for several days with these moves, and then we put them on the ice and it was great. We did it and you saw how great it was at Europeans. They did 100% of what they can do. At the Olympics there was too much pressure, but at Europeans they won the bronze medal because they skated with everything they had. I was so happy, and when they finished I knew they would medal.
I read that after Torvill and Dean's ice show in Britain there was a rise in interest in figure skating. There are similar shows in Russia with even bigger success. We even saw a football player fighting for an Olympic spot after participating in such a show. Is this the formula for bringing figure skating into the spotlight?
I could tell you one fact. I did the show "Dancing on Ice" in 2006 in Russia. The first show was aired on a second channel while Ilya Averbuch had his show on the first channel. Due to the popularity of the former champions who were on the show, there were double the number of kids coming to skating classes and visiting ice rinks. After many years of these shows, the popularity of figure skating had grown so much. Any country that hosts these shows will have success and see increased popularity of skating. It's such a beautiful sport, and so much fun. In Russia, they invite not only TV stars and local skaters, but also stars of figure skating. We had Olympic, World and European champions on "Dancing on Ice." But some other countries would only invite good, local skaters. If you can put famous names in your show then boom – explosion of figure skating.
Your skaters always entertain the public, in their programs there are these tiny interesting and different moments and movements which make them stand out. How do you come up with the ideas?
I don't like when people repeat others. It's very hard to do a lot different but it's possible. When we used to compete there were rules which did not allow you to repeat anybody else's moves. If you did, then you weren't considered a good skater or person – you were not allowed. People would look at you and think that you are stealing ideas. In the new system skaters will repeat lifts and spins – with twizzles it's OK, but when they repeat, it doesn't look as good. So we never do that, just try to keep everything original. And because it's original, it becomes different. Anyhow my couples don't look the same as anybody else.
What is your favorite program from your own career?
"Arabian Passion" from 1997 was my favorite, and the tango as original dance.
We will soon be beyond Sochi. We will ever see two time Olympic champions in ice dance again?
Wow, that's a good question. I would say not for a while because I was worried it could happen this year, so I hoped that Meryl and Charlie would win. I feel sorry for Tessa and Scott because I love them, they are an amazing couple, but I was hoping that Charlie will win so my record will stay (laughing) and it does and will stay for a while. Charlie and Meryl probably will not stay so in this case my record is safe.
Between these two teams who do you like more?
It's hard to say. Actually my 2 favorite teams are Scott and Tessa, and Meryl and Charlie. And my 3rd favorite was Ilinykh/Katsalapov. They were so good in the free dance, the "Black Swan," that I was blown away. I saw a perfect program and the performance was the best. They are so talented. I remember when Elena was like 9-10 years old I thought "That girl definitely has potential". Kids that start skating in this system- it's all about twizzles and edges and it's easier for them to learn; she was so young to learn. They have great chemistry and look amazing.
Here at Junior Worlds, which teams made an impression on you?
The first 2 teams are great. Jean-Luc Baker and Kaitlin Hawayek were so good. He reminds me of miniature Christopher Dean. He is so good. I like the expressions on their faces, they look like adults. And I liked the Russian team Anna Yanovskaya / Sergey Mozgov. I used to teach Mozgov a little bit in America so I knew what to expect. They are so big and beautiful. They have great figures.
How many teams will you work with now?
I have three teams plus some young ones. At the senior level will be 3 teams – 2 British and the Georgian couple Allison Reed / Otar Japaridze.
How many people are working with you?
I have a choreographer plus me as a coach. My choreographer's name is Jana, she's great. She is a ballet teacher. She polishes all my programs. She started working with me, Sinead and John Kerr. She came to work with us in 2009 and she made them look beautiful. Now she works with all my teams. I have some people that help me with the technical aspect. Adrian Doddy is a US officer, a young lady who helps with levels. We have a small but healthy team. We help each other.
Do you have support from the federation?
Yeah, the British federation supports us a lot. We have good feedback and constant communication via computer since we are in the USA. With today's technology, it's easy. Same with the Georgian federation. Before, we used to take video and send the tapes and nobody could see them right away. Now we can send information right after practice. I love new technology.
Note: My interview was published in AbsoluteSkating.com