Brian Orser could without problems earn the "Coach of the year" award after the amazing season of his skaters. Yuzuru Hanyu (Japan) won the Olympic and World titles; Javier Fernandez (Spain) defended his European gold and got bronze at Worlds. And young Nam Nguyen (Canada) debuted at senior events with success and won Junior Worlds. In Sofia, Bulgaria, Brian was nice enough to share some thoughts about the season and the differences between his top students.
Mr. Orser, it's a little unexpected to see you at Junior Worlds…
I always get excited to see my athletes experience Junior Worlds. I have good memories of Junior Worlds because of my other skaters and my own experience in 1978. It was the first time I realized I was at a big event. And after that competition I started focusing on the Olympics and dreaming of big things.
You are coaching 2 girls here. Tell me about them.
It's their first Junior World Championships because they are age eligible and it's a good experience for them. I've had the South African girl for 3-4 seasons (Michaela Du Toit) and there's the girl from Kazakhstan (Elizabet Turzynbaeva). She was trying to come last spring but couldn't get the visa, so it took her 6 month to come to Canada. We are together since about 4 months, she is a little late in her preparation, but we are still learning. She has old habits we have to gradually change–training habits, technique habits, performance habits. We have to work a lot.
How long have you worked with Nam? He has achieved so much at such young age.
I've worked with him for exactly 2 years. He was a real superstar when he was young; at 8 years old, 10 years old… He had the cute thing happening; he was cute – young, spinning fast… So when I started working with Nam again, there were many habits that had to be changed. We had to move him away for the cute thing, because the cute thing only lasts for a short time. Now he competes with the big boys and must be like them, with eyes on the senior events, eyes on the big jumps, big speed. Sometimes a skater gets lost at the junior level because it's slower and then all of a sudden you put him in the senior level and you realize how slow he is. So he had a good opportunity – the Four Continents. There he realized that these guys are going faster and filling the space. And it's not that they are doing harder tricks, they are all doing triple Axel, but they fill the space. And when he was at the Four Continents with one of my other coaches, Nam came back and started to fill the space in trainings. He started skating bigger. He also skates every day with Yuzuru Hanyu and Javier Fernandez. He skates with them, but now he will also compete with them. Filling the space and skating faster are things that come when a skater is ready and Nam is ready now.
Do you think it's good for him to do Junior Worlds and then Worlds?
We know it's going to be hard. When he was named for the senior team I said "Great". He was very excited, but I told him to focus on juniors. He is young, he trains well, he is in good shape and he has to keep this momentum going. And this will help him. He is going back to Toronto. He will stay there 4 days and blend with Yuzuru and Javi. We have to train the senior free program which is 30 seconds longer. But he competed at Nationals and the Four Continents. For him jumping to senior programs is easier because you have more resting time between jumps. For Japan (Worlds) we have set our goals: we want a good short and long program. I think top 15 could be a realistic goal. And a good result here at Junior Worlds will help there.
Was Sochi a bittersweet moment for you with Yuzuru's gold and Javi's 4th place?
To have students at the Olympics is awesome. We were in the kiss and cry area, but Yuzuru did not have his best skate and we had to wait for the results. And then Patrick Chan did not have his best skate either, so Yuzuru won. He was the best the whole week; there is no question about that. He was the best and finished the week as an Olympic champion. Now is a special moment for him and he is happy. So he wants to go to Worlds and skate again, to focus on the long program. It was bitter with Javi. There was a technical problem; he made a bad decision in the free program. As much as you try to understand the rules, it's still confusing and there are many variables. If the quad toe is a triple and you have many triple toes, and the Salchow, combinations, many things and it was confusing for him. Unfortunately the 3rd best skater came 4th. I was really proud of both these guys. They stayed in Sochi and performed in the gala, were practicing one week there and came back to Toronto. Yuzuru went to Japan to do the media celebration and it was exciting. But the last ten days, they will both be in Toronto and work hard. They still have some energy left. I know as a skater how difficult is to prepare for Worlds after the Olympics.
Was it difficult for you to be at the Olympics with these 2 guys and their main rivals that came from Canada?
I'm happy if the best person wins, the best skater. If the best man wins it's ok, whether it's Patrick, or Yuzuru or Javi. I'm just doing my job. I have been asked by these skaters and their federations to work with them and that's my job. And I don't have invitations from Canadian athletes. I only have Nam.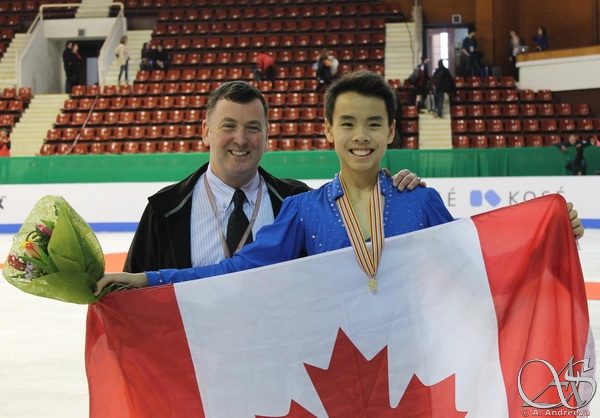 All of your guys – Yuzuru, Javi and Nam have something special about them. Can you describe it?
It's difficult to put it in words. Any Olympic or World champion must have something special. Yuzuru and Javi are so different. Yuzuru lives with his mother, they have very strict disciplined routines and he is still in school; for them education is very important. He keeps to himself, he is not very social. Javier is the opposite. He lives alone; he has an apartment, a girlfriend. He cooks for himself, he cleans for himself and he is quite social. It works for him. The Japanese culture is different than the Spanish. My job is easy because they help each other; they admire and respect each other. Who can ask for more? Me as a coach just have to be careful and read their body language. I'm available for both. Sometime I feel I need to spend more time with Javi, sometimes with Yuzuru. And they understand that.
Tell me about the crew you work with? 
For my athletes I have 4-5 other coaches I work with. One is specialized in spins; she is excellent. She not only coaches spins, but understands the levels and we try to get level 4 for all spins. I have Tracy Wilson, she is technically excellent. She spends a lot of time on basic skating skills, like where you get the power from, where to position your body to get more power with less effort. David Wilson does the programs. When the program is done, Tracy works on the transitions to make the programs powerful and balanced. After her foundations, you can do the choreography, big jumps. I do pretty much everything; spend a lot of time on transitions, technique, jumps…
Do you still jump?
No (laughs), my body can not take it.
We used to always see Yuzuru with his Winnie the Pooh tissue box, Javi has Mickey Mouse. What is the story behind the toys?
I don't know! I know that Yuzuru is very, very superstitious, and I believe it's part of the superstition. However it was not with him at the Olympics and I didn't ask, I just let it go.
Is there a bad omen over Canadian male skaters at the Olympics?
I don't know. We had so many great skaters, starting with Donald Knight and Toller Cranston in the 70's. Toller Cranston was one of the best skaters when there were compulsory figures. Then it was me, and it was Kurt Browning, Elvis Stojko, Jeff Buttle, Patrick Chan. We have many World champions, some of them won many times. I don't know what it is at the Olympics. Maybe the Olympics don't happen at the peak of their development. Patrick was starting; he was almost there in Vancouver 2010. But maybe the next Olympics were too late for them and for Patrick. He was late maybe 6 months. If the Games had been 6 months earlier it might have been different. Remember that in Paris he was fantastic. Jeff got an Olympic medal and became the World champion and felt it was enough for him. My first Olympic Games (1984 in Sarajevo) were better because we had compulsory figures and it helped me. The 1988 Games (in Calgary) were very hard, I physically felt very tired. I was going there only to become the Olympic champion after becoming World champion in 1987. It was disappointing cause I was ready. (Brian won silver at both Games.)
I teach in a different way than I used to train. I used to train too hard and not quite as smart as I'm teaching now. I learned from my own mistakes.
Will we see a different Javi and Yuzuru next season? Do you plan to change their style?
Yeah. We will get to use vocals. We already chose the music for Javi's short program, for the free we will see. It's always easy for him to find music. Yuzuru is different. We are trying to get him out of the comfort zone because I don't want him to be stereotyped. He is too young for that. We have kept his short program for 2 seasons and must change it now. We will also experiment with the free.