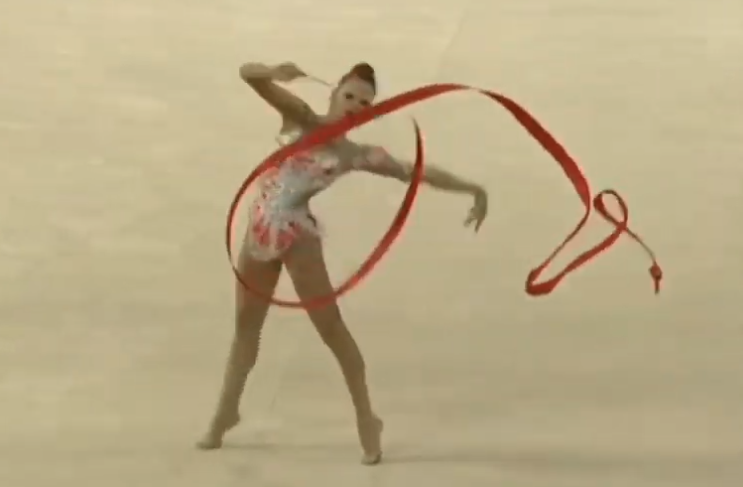 A knot during a ribbon routine is a rhythmic gymnast's worst nightmare. According to the Code of Points' latest edition (#2.2.3, p.15, concerning BD and S; #6.2.3, p.28, concerning AD and #5.1.2, p.25, concerning R), the only elements valid with a knot are the so-called Risks or R, which, unlike the rest of the elements BD, S, AD don't have a requirement for a lack of technical fault of 0.30 or bigger.
This has also been strictly specified in FIG's newsletter from March 1st 2018, which you can find HERE.
Strangely enough, all this seemed to be disregarded during the ribbon final at the first World Cup of the season in Pesaro, Italy by the D1-2 and D3-4 judges, as well as the FIG's Technical superviser – Ms. Shihoko Sekita.
D1-2
Ariel Milanesio (ARG) (I cat)
Saila Pitkanen (FIN) (I cat)
D3-4
Eva Serrano (FRA) (I cat)
Alua Bekturova (KAZ) (II cat)
The most discussed subject among RG fans in the last 24 hours is the knot with which Dina Averina performed at least 3/4 of her ribbon routine, and despite everything, with which she won a gold medal with a 20+ score (11.400 for D, quite impossible to be commulated only with R elements).
Of course, Bulgarian fans are especially disappointed, because had judging been strict and fair, the gold would have been for Katrin Taseva. It's easy (and quite frankly, fair) to say that Taseva was robbed, we could also say the same for Sali Pazhava, who ended 4th, but all that isn't enough. Rhythmic Gymnastics, as a sport, was robbed. So were all the competitors in Pesaro, who saw Dina's performance and understood that there will always be double standards, because they all know that had anyone else presented their entire routine with a knot, they wouldn't even get close to a 20+ result.
Most of all, robbed were all the little gymnasts, who dream of performing at this level of competition, some day.
But also, Dina Averina, a two-time absolute world champion, was robbed herself, judging by her reaction after the routine, and the one after the score, maybe realizing what she actually deserved.
And finally, we were all robbed as fans, asking ourselves why we keep following this sport so faithfully, after everything we think we know is simply not true.
Our faith in this sport has been stolen.
*article has been updated with the respective difficulty judges for the clubs and ribbon finals