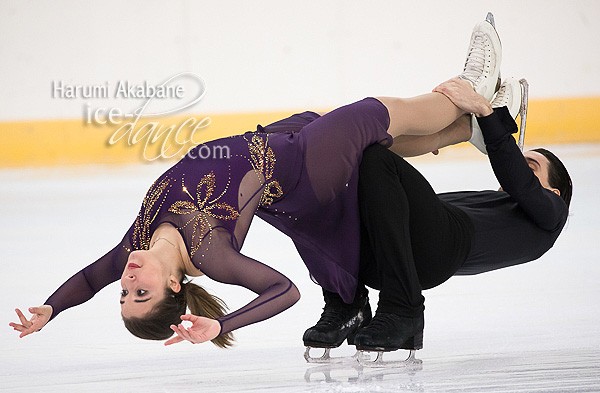 Teodora Markova and Simon Daze participated last weekend in Alpen Trophy in Innstbruck, Austria. They won the competition with Mina Zdravkova and Chistopher M. Davis and have the right to represent our country at Europeans and are also very close to win again a spot for Worlds. In March this year we sat and talked with them during their first World Figure Skating Championships in Milan, Italy.
Now is the time to share it with you.
-Simon, tell us about yourself. I have written many articles about Teddy and skating fans in Bulgaria know her. Start with the beginning of your career?
Simon: I started when I was 8 years old, my sister was doing figure skating too. I had a chance to go to figure skating camp because my sister was going and I went. I tried it and did not like it at first. You can say it was because I did singles but when I started dancing I felt into it, and I liked it a lot. It was a year after I went to the rink. I like having someone with me every day. My first coaches were Bruno Yvars and Martine Patenaude, they are from Montreal too. After 4 or 5 years I changed to Marie-France Dubreuil and Patrice Lauzon. I had several partners in the last 12-13 years, I got along with some of them very well.
-You also coach, how is on the other side of the bar?
Simon: I started coaching just a year ago. I like it. It is very funny to give your experience, what you learn every day in the sport you like. Mostly I work with kids but I have a lot of elder students that are 20-23-years-old. In Canada it is typical to have people of older age coming to the rink and learning to skate just for fun. It is mostly like 2 hours per week.
-As one of the first students of the best coaches now, can you tell us more about the time when Dubreuil and Lauzon started their school that we all admire now?
Simon: At first there were a lot of couples from Quebec and a lot of dancers. There are people that are still with them like the Spanish guy Adria Diaz.
–You work with the beast coaches now. We know Mary France, Partice and Romain But who else is in the team?
Tedy: Pascal Denis and Josee Piche and Benjamin Brisebois-Gaudreau, I did the tryouts with Ben.
Simon: Рascal is such a nice person. He is slways there for us if we need to talk to someone.
Tedy: And not just for skating.
Simon: And is very emotional. He is pretty much main coach for us now. He feels out emotions, if you are stressed he feels it and tries to help, and he is very funny to work with. He is very important for us to feel comfortable.
Tedy: This season he was usually with us at competitions.
-Can you tell us more about the working organization because the team is big and the coaches work with many couples, even juniors?
Tedy: Patrice does the schedule every day, very detailed schedule about what every couple does for every 15 minutes. So we have like a layout what we should do and when and ususally it is not more than 4 ot 5 couples on the ide for the same time. There are two rinks, and if there is need we can split up.
Simon: There is a lot ice time. If you want to skate there are two rinks and you can skate.
Tedy: And the ice is with very good quality. In the morning sometimes we share the ice with Olivia and Adria, the Spanish team, the Danish team that is no longer danish (Nikolaj Sorenson and Laurence Fournier Beaudry). It depends on the scehule, it changes every day.
–What is the feeling to be on the same rink with Tessa Virtue and Scott Moir, Gabriella Papadakis and Guillaume Cizeron?
Simon: It's really something. You can not imagine it. I really like to train with the best in the world. Tessa and Scott are my favourite couple, they are great inspiration, they are nice people.
Tedy: And they are all nice people.
Do you remember the first time you met? Your first training together?
Tedy: I had a try out with Benjamin. Do you remember it?
Simon: No. (laughing)
Tedy: You had really long hair (both laughing)
-Simon, were you scared to try with a partner with no experience in dacing and couples?
Simon: Yeah (Teddy laughs). But she had a good preparation. Since we started she has done a lot of progress and I am pretty happy about how things are developing.
-What do yo remember from your fist competition?
Tedy: It was in Quebec city. Do you remember?
Simon: Not much (laughing).
Tedy: I remember I cut my finger and I hoped not to blood everything around me. It wasn't bad perfornace anyway.
Simon: (still laughing) I do not remmeber too much.
Tedy: Our second competition in Andora was better.
Simon: I really liked Andora.
–And in you first international competition you did the points to qualify for the Europeans. Did you expect that?
Both: Not.
Tedy: Not really.
Simon: Actually we did not talk about going to ISU championships that year. We had the idea to start together and see what happens. It was very nice surprise.
Tedy: The coaches in the beginning were planning like maybe Europeans, but it will be hard. But we did it in our first competition.
-And then you surpsied them even more, qualifiyng for Worlds?
Both laughing so much.
Simon: You don't want to say wha they said?
Tedy: No.
Your best memory from your first competitve year together?
Simon: Andora was very nice experience. I really like the place there. The place is so beautiful and the competition went well for us. It was one of my best moments.
Tedy: The whole season was good, we did more than we expected but we still have a lot to do.
-You competed twice against the other Bulgarian dances. Teddy, you know Mina from very young age?
Tedy: Well, we do not know each very well now because we do not see very often. I live in Canada and USA, she is in Britain and Bulgaria. We used to be close when we were very little and I am happy that she is still here, that she skated with her partner and they are competing. It's good to have them. Unfortunately most of the girls I used to skate with are not skating any more.
-You also spent several days in Bulgaria. Simon did you learn some Bulgarian?
Simon: Zdravei. Dobro Utro (Teddy hepls, it means "Hi" and "Good morning). That is pretty much it. I am gonna learn more.We went to Sofia, it was nice. 
– What do you plan for the next season. The tango?
Simon: I have done it. In Canada when you are young you have to do compulsory dance. So I have done a little bit of tango before. Latino was kind of tricky this year. It was not my style. I like tango, I like waltz.
Tedy: For me better is sometging gentler and also tango. I love tango.
Tedy, how different is to compete in pair than being individual skater?
Tddy: There is a lot more to be put toghether when you are competing with somebody else. You can not be spontaneous because it is hard for your partner to understand what and why are you doing. But is it nice – when you are on the ice with a partner, it is better. Sometimes I miss being alone but usually I am glad that there is someone you can rely on.
-Teddy when you competed at Junior Worlds your dress got unbuttoned in the back. The current topic everywhere is the sitaution with Gabby and her costume at the Olympics. How much this can affect the skate?
Tedy: Mine wasn't very had, I even did not notice it till the end and I was very young. But it can be very distracting especially in the Olympics where the whole world is watching and every little detail matters. She still did so well considering this issue.
-At the olympics who did you like most?
Both: Tessa and Scott.
-In the same time we saw amazing team spirit in Team Canada. How do you do it, Simon?
Simon: Actually it changed with the years. When they were competing it was all about points. But the big skaters started doing these shows togeher, like Canada on ice, and everyone gets friendlied.
-Simon, was it difficult for you to decide to complete for another country?
Simon: Yeah. I haven"t represented mine but it was still little weird. Still it is my sport and what I love doing. This gives me a lot, now I am here at Worlds and that motivates me to improve a lot.
-Who is the funniest in your team?
Tedy: Scott.
Simon: I think so
Tedy: He is the goofiest.
Who is the most serious?
Tedy: Nick.
Simon: Yeas, Nick is pretty much the serius one but he is still having fun.
-Nikolaj and Laurence were not at the Olympics because of the passport issue, how did they took it?
Tedy: I am ver mpressed with them. This is something you spend your whole life waiting for. Sad is when you earn it and you can not go because of technicallity. And that did not break them, they worked hard, did very well at other competitions. Already they have plan for the next 4 years and they are so motivated and that pushed them up.
–I talked a little with your coaches and Pascal said that you work very well together. Do you have like 4 year plan till the next Olympics?
Tedy: It is not a detailed step by step plan but very much we expect to keep working, keep improving, hopefully in 4 years we will be in the Olympics. This competition here is a very good step. We have 3 more rounds of Worlds to prepare to make judges notice us. Next season we start with the experience from participating in Worlds. Here we learned that it is important how you present yourself, you must be very well put together.
Simon: On the ice you must give your best and outside the ice you also have to think about how you look. We did not put any pressure on us, we came here and tried to give the best we can and have fun while doing it.
Tedy: For the nex season I am excited about new programs and choreography. This year we just did the elements to gain points. We have a lot to work to improve the quality of our skating and presentation.
Simon: Yes, this year we rushed everyting, we had to do the programs very quickly. Now I see that the program has less quality than we can already do.