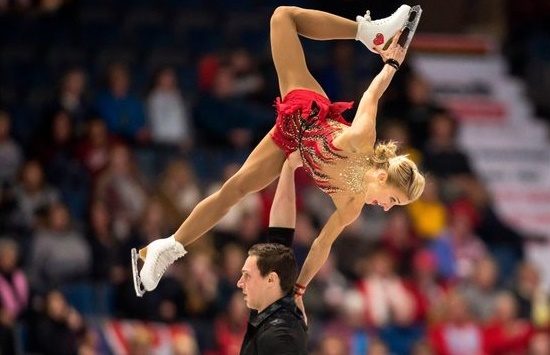 Aliona Savchenko (Germany) and Zhang Hao (China) participated in the record for figure skating Olympics. In this way, they became part of the four figure skaters with five Olympics. So far the record belonged to Margarita Droyazko and Polivas Vanagas. However, the achievements of Savchenko and Zhang are more significant because they did it within 16 years (from 2002 to 2018), while the Lithuanians take advantage of the fact that the Games in 1992 and 1994 were separated by only two years (they poarticipated also in 1998, 2002 and 2006).
Interesting fact is that Aliona and Hao both had three different partners. 34-year-old Savchenko debuted in 2002 with Stanislav Morozov for Ukraine (15th). Despite five world titles, Savchenko and Robin Szolkowy have never won the Olympics. They took bronze in 2014 and 2010, while on their debut in 2006 finished sixth. After Sochi Aliona decided to continue and formed a pair with Bruno Massot, with whom participated in the team competition this night. After their victory at the Grand Final, the duo has great ambitions in Pyongyang.
Zhang Hao (whose birthday has disputes – 1982 or 1984) and his partner Zhang Dan took part in three Olympics and won the silver medal in 2006 (11th in 2002 and 5th in 2010). Over the years, however, Dan had grown to 170 centimeters and her growth was a problem for the couple and her careed ended early. Hao continued with the young Chen Peng, but the Chinese Federation was not pleased with their 8th place in Sochi and in 2016 it was decided to continue with the very talented Xiaoyu Yu, with whom he already made a start in South Korea.