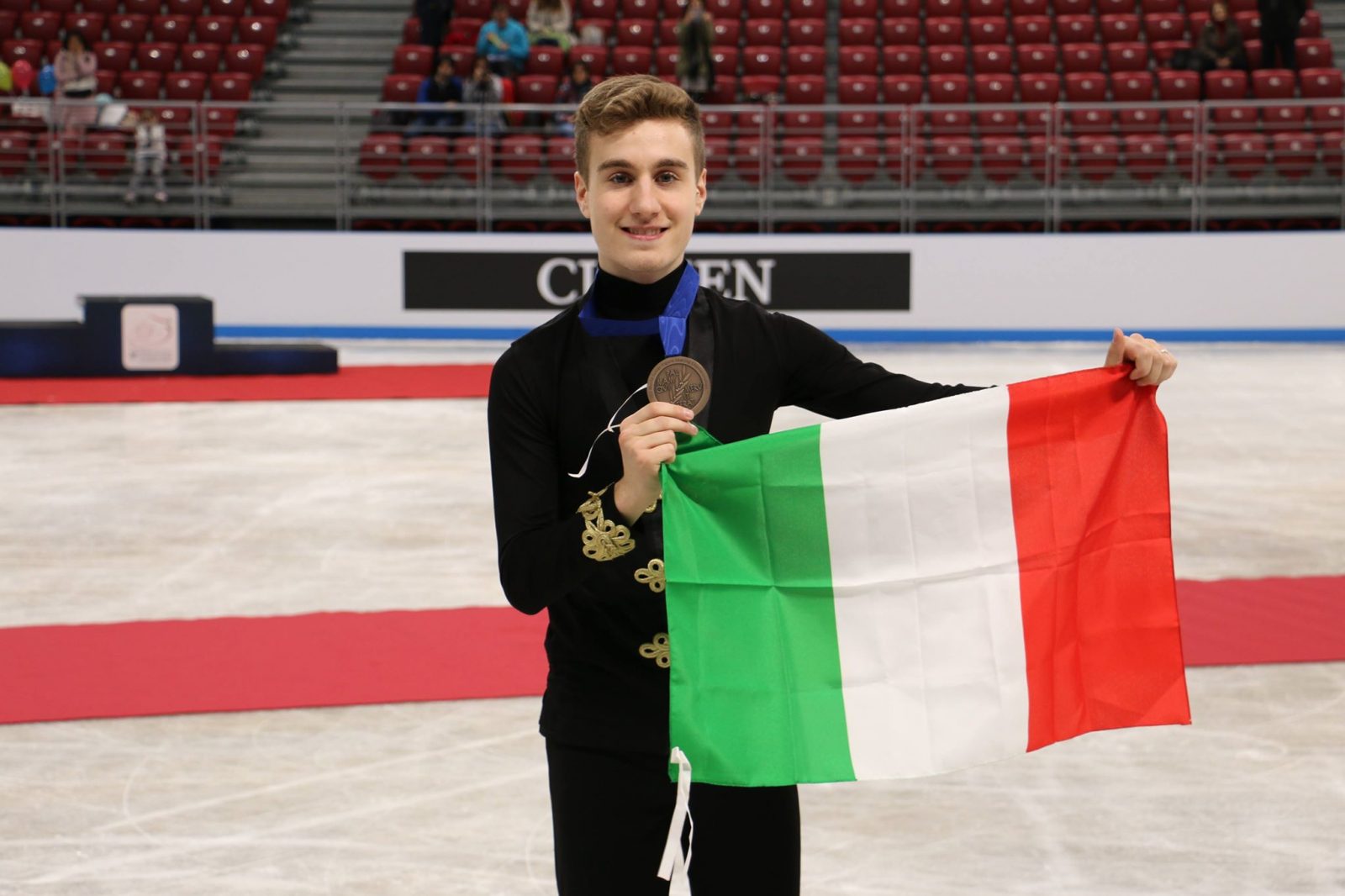 Matteo Rizzo is the new interesting name in European figure skating. 19-years old Italian is probably the busiest skater, as the Worlds will be his tenth international competition this season. He not only won the Olympic quota for Squadra azzurra but is going to make figure skating Grand Slam with participation in the 4 main ISU events – European Championship, Olympics, Juniors Worlds and now Worlds. In Pyeongchang he did four programs and soon after that was in Sofia for his last Junior Worlds. We had the opportunity to ask him some questions before the World Championships in Milan.
-Matteo, I will return you to the press conference after the event. You said something that made me great impression, that being 30th 4 years ago and medalist now means that everything is possible and skaters should never give up. What was your motivation to continue?
–My motivation was to be successful in my career as an athlete. Now I have started my long journey towards the idea of the athlete I want to become.
-Have you ever though it's possible to win medal with two sixth places. What was your reaction when you saw you are third?
–Honestly, not really. But with the really tight ranking after the short program, I realized that every thing was possible in the free. So I went to give everything I could. My reaction was not simple, I'm still sad about what happened to Alexei (Krasnozhon got injured after fall). But after I saw that I'm third I was really happy.
-You have been in Sofia for several other times for Denkova-Staviski cup. You won several medals here. Can we say Sofia is your lucky place?
-Yes, I have been here as junior and senior. I have walked around the city and I like it. I have tried local dishes and they all were good. I can say that I am lucky here.
-If we check your junior career you gradually improved your placements. How important is your coach Franca Bianconi and since when do you work with her?
–My coach is very important for my career as every coach for an athlete. I started skating with Franca when I was 7 so we have many years together and I'm happy that the results are coming.
-Does having ice dancers for parents means that you have the skating skills in your DNA or everything is just hard work. You usually travel with your dad, what does your mom say after your competitions?
–Having ice dance family is important but mostly you have to work hard every day to get where you want to be. My mom is always very happy when I skate well and I really enjoy skating when she is watching me. 
–What is it to train with Valentina Marchei and Onrej Hotarek that always look so funny?
–Very important. I learn every day from them. I think that part of my last results are thanks to them. It's important to have fun when you skate and they are always very funny.
-Your competitive and gala programs are joy to watch. Who choose the music for your programs and did the choreography?
-Mostly I choose the music but after I have talked to my coaches and choreographer. We decide together at the end. The programs were done by Massimo Scali and Corrado Giordani.
-What was you thought when you were chosen to represent Italy at the Olympic qualification Nebelhorn Trophy? Did you have fear because of the fact that the Italian Olympic quota is in your shoes (skates :).
–I was really happy to compete at Nebelhorn Trophy and try to get the spot for my country for the Olympic games. I was chosen after a test at Lombardia Trophy earlier in the season. (note Matteo finished fifth, Ivan Righini 11th and Maurizio Zandron 13th at Lombardia Trophy and later was third in the battle for 6 Olympic quotas).
-In Pyeonghang we again saw the amazing Italian team spirit. What makes Scuadra Azzurra such special team?
-Our team is made of special athletes who are very good and you can learn a lot from them.
-21st place in Olympic debut is not bad performance. What is your best memory from the competition?
–The Team event. It was something new and we had incredible result at the end.
-How are Italians preparing for the championships and what can we expect?
-To have the worlds in Milan is the perfect end of this very long and important season. I imagine that it is going to be amazing event especially for the Italians.
-Who are your all time favorite skater?
-Javier Fernandez is my inspiration as an athlete and as a friend.
-You are probably one of the skaters with most competitions this season. You did Challengers, JG. How are you going to rest and what can we expect from you for the next season?
-After the Worlds I'm going to have long vacation and after that start the preparations for the next season. Hopefully it will be as full of emotions as the last one.
Photos by Andriana Andreeva